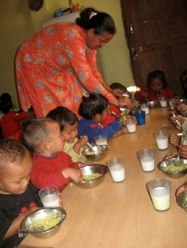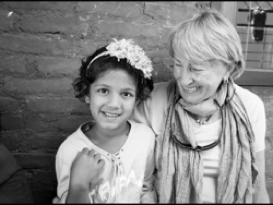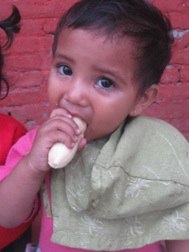 She is a traveler from far away. Her name is Karen Flewelling and she is a member of the Women's Global Giving Group that is the Sponsor for Keenan's Kids' Fruit on Fridays program. For Karen, it simply was not enough to participate as a donor. She heard the call of the children, and this October, she traveled to Kathmandu to see them, know them and give them hope. Here is her tale from far, far away.

I visited this Center today.  What a joy!!  I traveled twenty minutes through dusty, narrow streets, with buildings in various shades of gray.  The taxi lets me off, I walk past piles of old bricks for two blocks.  I turn the corner, and there is more of the same; gravel under my feet and no color to be found.  And then to my right I see this Day Care Center.  It is an oasis in a very dry desert.  There I see my first bright colors of the day.  I feel good before I even enter the grounds.
The person who started this Program in 2006 and continues to run it is Bina.  She is a small bundle of energy.  She knows what is happening everywhere in the complex.  Bina started this Day Care for fifteen children from the families of the lowest caste.  The women had been taking their children with them to work.  They mixed cement, and their children would spend the entire day on their mothers' backs.  The Center has grown, and Bina now also takes in children who are abused at home or are malnourished.  In addition, this Day Care Center provides extra help to 73 children; 20 of whom attend the local school and live at the school hostel.
The first thing I noticed was the cleanliness.  There are 180 children, and I see nothing eschew.  They have a garden with vegetables, clothes are hanging on the line to dry, and I see a swept courtyard.  There are potty chairs clean and lined up.  The toilet area is clean, and there is no smell.  I applaud Bina's effort.
Bina shows me the youngest child who is in a bassinet.  She is only a few months old.  Next I visit those younger than two.  They are sooo cute.  They are well supervised and quiet.  I watch as they are given rice and milk.  It is a large portion for a little body.  I could not eat it all in one sitting, but these children are apparently very hungry.  They have not been in this Center for the past ten days because it has been a national holiday.  I am guessing they got little to eat at home during that time.  Some of the children can eat by themselves, but some need to be fed.  The workers/volunteers are patient and loving.
I visit the kitchen and the storage area for the vegetables and rice.  The storage area has bags of rice from floor to ceiling.  Bina has to buy in bulk as it keeps the price down.  In the kitchen large pots are on the burners cooking rice, lentils, and milk.  The children receive two meals each day.  They eat mostly rice and beans.  They would not get any fruit were it not for Keenan's Kids.  It is just too expensive.  It will be fun to see them receive the fruit.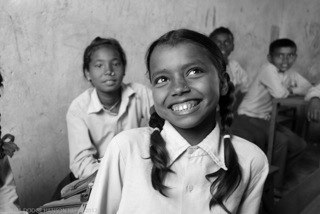 Thank you Karen, for letting us see these children through your eyes, for supporting Keenan's dream and keeping her spirit alive.