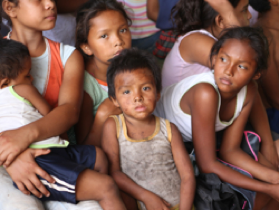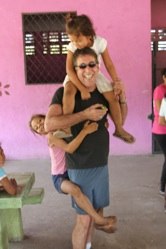 During February, brothers Fernandez traveled to Nicaragua to work at the Comedor (Children's Feeding Center) and to measure the progress of Keenan's Kids. We arrived just in time to share in the celebration of the first day of school, which included watching the children pummel a piñata.
We are pleased to report that after one year in operation, the Comedor is now feeding approximately 210 children from the communities of Chonco, Joya Uno and Joya Dos. We are also pleased to report that since the Comedor's inception, student attendance at school has risen over 50%, and the communities involved have embraced the "food for school" program. Children continue to receive two meals a day (breakfast and lunch), provided they attend school from 7:30am through 12pm. And of course, there is always "Fruit on Fridays." Parents of the children donate the firewood needed for cooking and the whole community participated in touching up the paint of the Comedor.
While we were there, we also had the opportunity to visit with many families. We were interested in their views as to what we could do to improve the program. Amazingly, we could see it in their eyes – there was nothing.  All we received was an outpouring of warmth and gratitude that their children were now enjoying an opportunity that they had never had. It made us feel good – very, very good.
Thank you Keenan.