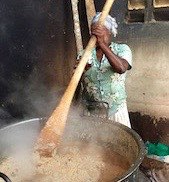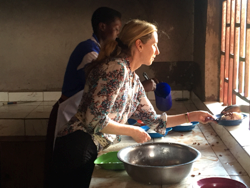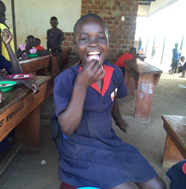 In 2013, the community of Kagoma Gate was named the poorest village in Uganda, Africa – that is saying a lot.
In 2014, Keenan's Kids partnered with the Giving Circle to design a program to help improve attendance at school. Similar to its other programs throughout the world, Keenan's Kids committed to providing breakfast and lunch to each child in the Village, provided that parents of the children would allow them to attend school. At the end of 2014 there were 110 students attending 1st though 3rd grades.
At the end of 2015, Kagoma Gate had 270 children in the Keenan's Kids Food for School Program; 150 in 1st through 3rd grades and 111 in 4th and 5th grades. At that time, the enrollment represented about one-third of eligible children in the Village.
During April of this year, Maureen spent two weeks in the Village, teaching art classes, participating in health education classes and helping to serve lunch, now, the only meal of the day. The program has grown to over 400 children as of the end of April 2016. It's extremely difficult to do anything when you're hungry – especially trying to focus on school.
We couldn't be more pleased with the progress that has been made. And again, we want to acknowledge the amazing leadership efforts of Moses and his wife Cecelia, who are the day-to-day, on-the-ground individuals who oversee and coordinate the school and feeding programs.
We know that Keenan is smiling!!!