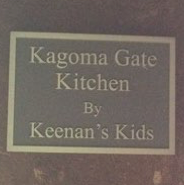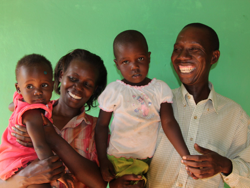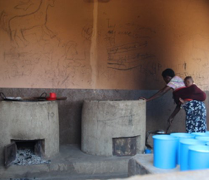 Meet Moses Wambi – Uganda

In every project, undertaking or effort, there is always one person who rises to the top to provide inspiration, strength and leadership. At the village of Kagoma Gate that person is Moses Wambi. Moses, together with his wife, Cecelia (both pictured above) have been the driving force behind the Keenan's Kids feeding and nutrition program, in partnership with the Saratoga Spring's Giving Circle.
In early 2015 the Keenan's Kids kitchen was opened at Kagoma Gate, Uganda. We had spent months researching alternative designs for smokeless stoves. When we last visited the village we saw a woman standing over an open wood-burning stove with a baby tied to her back (photo above). The black smoke drifted upwards into their faces and covered the walls of the small space. Recognizing the severe health hazards involved, we made proper ventilation a priority in selecting the new stoves – Well, Moses made it happen!
With Moses on the ground, we built two large industrial, energy efficient, wood-burning stoves, which are well ventilated. He also led the initiatives to build a tile counter top with locking storage spaces, and equipping the kitchen with large cooking pots, utensils, serving bowls, cups and spoons. Since food and supplies would need to be stored, Moses also designed and led the building of a secure area for this purpose.
Under Moses' inspirational leadership, the school community, now only three years in the making, has grown exponentially. New classroom spaces have been built and the students now can study here through P7. The feeding program, providing mostly greens, beans and a corn porridge, has been the engine behind the increase in attendance to 270. Gradually, this once forgotten village is lifting from poverty. Thank you Moses for all that you do for your community. We are inspired by your heart and devotion and only wish that Keenan could have known you.