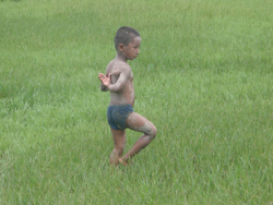 Orchid Nepal is a  non-profit Day Care Center located in Kathmandu, Nepal. It is run by a wonderful woman named Bina Basnet, who is also the founder of the organization. The Center cares for between 35 to 45 children, ranging between 18 months to five years of age. These families have very little income, and either both parents are working, or there is only a single parent. They are generally people of lower castes who cannot meet their children's basic needs, and struggle every day just to get by.
The Center tries to provide these children with at least two meals of milk and rice each day. However, given their limited resources, this is often not possible. The children are all cared for at a single location, which consists of  a single room. Their hopes and spirits are high, but they are hungry. It was children like these that touched Keenan the deepest. She simply could never walk by them.  Keenan's Kids will be providing a milk and rice supplement to insure that the Center is able to feed these children twice a day. These are desperate families whose kids could really use our help.
We are also hopeful, that with our support, the Center may soon be able to accept more children. This program will begin during November, 2008.