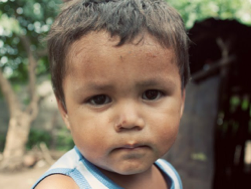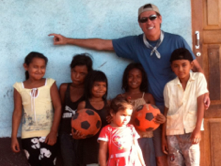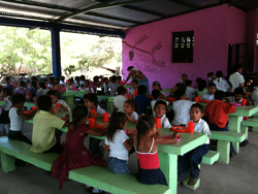 In 2010, Maureen and I were living in Atlanta, GA. Having gotten Keenan's Kids off the ground in Kathmandu, Nepal, we wanted to expand our efforts into the western hemisphere where our own active participation would not require as much travel. In this quest, we had the good fortune of being introduced to John Bland, the founder of Amigos for Christ.
Early in his career John had visited rural Nicaragua. It touched him deeply to see people living without clean water, searching for scraps of food through dumps and with no real access to education. This was a turning point in his life. As a graduate of Georgia Tech he undertook to form a non-profit organization (Amigos for Christ) devoted to bringing clean water to rural Nicaraguans. The base of
operations was established in Chinandega, Nicaragua. Over the years, John created a following of mission oriented men, women, high school and college students. Working with the Nicaraguans, shoulder to shoulder, they dug wells for clean water and started building elementary schools (Kindergarten – 6th Grade).
While the clean water efforts were highly successful, school presented a much bigger challenge. Essentially, parents would allow their children to attend school up through about 2 nd grade. But at age 7, their children became useful to the family. Consequently, the boys would go to work in the fields with their fathers and the girls would be kept at home to look after younger siblings. This was the
opportunity for Keenan's Kids to make a difference.
Keenan's Kids partnered with Amigos for Christ in a very unique way. After visiting with thirty – forty families in the rural village of Chonco, we learned that reality required children to work in order to put food on the table. Keenan's Kids proposed an arrangement whereby we would provide breakfast to all the children who would start school at 7:30am. Further, that we would provide lunch to all the children who remained in school for the full day, ending around noon. In partnership with Amigos, Keenan's Kids constructed a feeding center (a Comedor, in Spanish)next to the Amigos school in Chonco. It was built to accommodate up to 240 children. In our first year, we had about 60 children, virtually all of whom were in the Kindergarten to 2nd Grade. After only 3 years, we filled the 240 seats and filled grades 3 rd through 6th .
Today, the school has expanded and many families have moved to Chonco because of the feeding program and educational opportunities. Unfortunately, 2017 and 2018 have seen much political unrest in Nicaragua, and the Amigos mission programs have necessarily been suspended for safety concerns. Nonetheless, we look forward to continuing our work there as soon as geopolitical tensions begin to ease.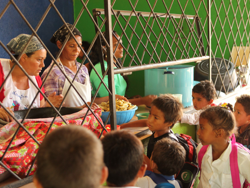 Keenan's Kids built and supports the Comedor (feeding center) in the rural village of Chonco, Nicaragua. The Comedor has now been in operation for almost five years, and provides breakfast and lunch to approximately 240 children throughout the school year. The food and nutrition is provided as an incentive to the families in Chonco to allow their children to attend school, rather than remain at home to assist with domestic chores and economic support.
read more