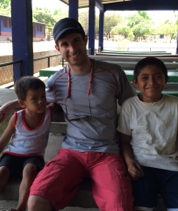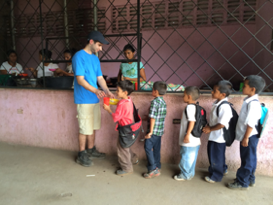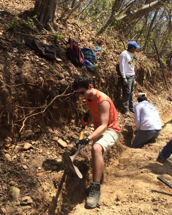 Stephen Fernandez, Keenan's cousin, will be graduating from Cortland State University in May 2014. As a graduation adventure, he decided to travel outside the US for his first time alone. His choice – to follow in his cousin's footsteps and carry on the work of Keenan's Kids in Nicaragua.
Like Keenan, Stephen has a love for children, whatever their race, color, creed or origin. Throughout his trip he spent much time with the children in the community of Chonco. He helped serve them meals, he played with them and helped in cleaning and maintaining the Comedor (Feeding Center). He also visited the local produce markets to help with the process of purchasing the basic staples of food provided to the children at the Comedor.
In addition, Stephen partnered with the Amigos Foundation in Nicaragua by assisting in the digging and laying of water lines to rural communities and participating in the "Pay-it-Forward" program where rural families are lent livestock for the purpose of breeding their own animals.
Stephen's favorite part of the trip was to meet with many of the families of the children from Chonco. And while he is not fluent in Spanish, he managed to find the way to communicate with everyone – the universal language of caring and love.
Thank you Stephen!!!