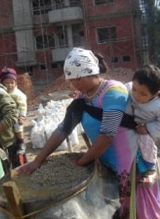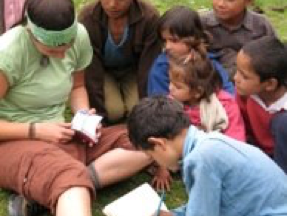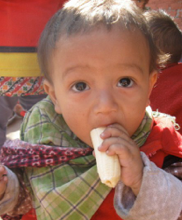 The Children of the World Thank You

During this joyous season we want to thank you once again for your generous contribution to Keenan's Kids. We have closed the Trust, as everyone's generosity has enabled us to fund two very worthwhile organizations for years to come. Even a small amount of money in this part of the world is far reaching, and we wanted to let you know of the good your contribution has done.
Orchid Nepal Day Care Center
This day care center is located in the small town of Boudha, Nepal where Keenan lived and studied. Every day she would stop to play with the children of the street, because it is they who would let her in. Her camera was filled with their beautiful pictures, like the one of her, above, teaching them. The day care is run by an amazing woman named Bina, who cares for between 40-60 pre-school children each day. The donation we pledged started as a basic nutritional supplement of "Rice and Milk." As the donations grew, we were able to add "Fruit on Fridays" and even chicken to their diet.
We have stared at the pictures of these children many times. However, the one that moves us the most is of these two women who go to work each day for an NGO mixing cement in the hot sun with their children tied to their backs. It is so hard for them, yet they have no choice. Because of the support from the Orchid Nepal Day Care Center, these women and many like them, now have a place for their children, secure in the knowledge that they will be fed and cared for.
Bangalore Slum School
After Keenan's stay in Nepal, she was scheduled to spend six weeks teaching in a slum school of Bangalore, India.  We have recently added this new project as a symbolic way of completing her journey. Here, we are supplying daily nutrition to the 250 children who attend the school. They will receive a glass of milk and fruit each day before heading home. For many, this is the only food they will eat for the evening. These are desperate people and a little goes a long way.
We will continue to update this website, "KeenansKids.org" with pictures of the children in these two centers, as they are sent to us periodically. The Trust is now fully registered as a tax exempt organization, and all the tax information you might require is also listed on this site.
May you have a Merry Christmas, Happy Hanukkah, and Joyous Holiday Season.
The Fernandez Family thanks you,
                                                 Keenan thanks you,
                                     The Children of the World thank you!