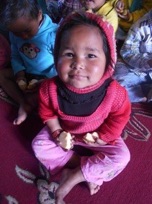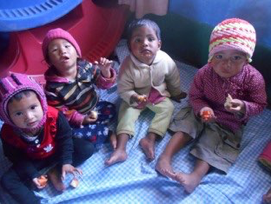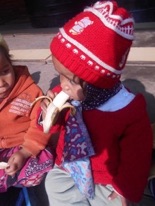 During late October 2014, Keenan's Kids helped the children of Orchid Garden Nepal (OGN) celebrate the festival of Tihar, through its ongoing commitment to provide food and nutrition to this daycare/school facility.
Tihar, in general, signifies the festival of lights, where diyas (oil lamps) are lit both inside and outside houses to make them illuminate at night. The five-day festival is considered to be of great importance as it shows reverence to not only people and God, but also to animals like the crow, cow, dog and oxen, who maintain a special and symbolic relationship with the people. The first four days are devoted to this, while the fifth day is a celebration of the unique relationship between brothers and sisters within a family.
As part of the celebration at OGN, as throughout all of Nepal, people made patterns on the floor of living rooms or open spaces using materials such as colored rice, dry flour, colored sand or flower petals. Keenan's Kids and OGN also provided bunyai, sel roti and bananas as special sweets for the children.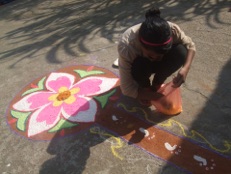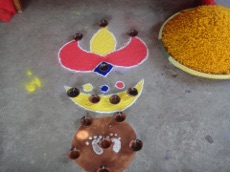 Keenan always treasured the joy and happiness that these unique and colorful festivals brought to the children of Nepal.