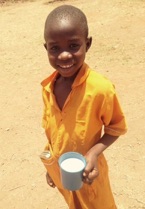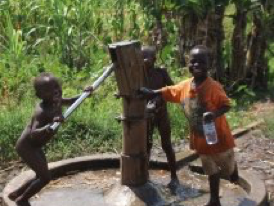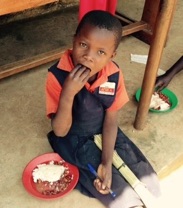 Uganda Food Program Begins

In 2011 the The Giving Circle, a charitable organization based in Saratoga Springs, NY, started a program to help the village of Kagoma Gate, the poorest village in Uganda. Today, thanks to the Giving Circle, Kagoma Gate has a well for clean water, latrines, a school and a playground. However, attendance at school remains  challenged because families need their children to work.
In 2014, Keenan's Kids partnered with the Giving Circle to design a program to help improve attendance at school. Similar to its other programs throughout the world, Keenan's Kids committed to providing breakfast and lunch to each child in the village, provided that parents of the children would allow them to attend school. At the end of 2014 there were 110 students attending 1st though 3rd grades.
We are pleased to report that beginning in 2015, Kagoma Gate has 261 children in the Keenan's Kids Food for School Program; 150 in 1st through 3rd grades and 111 in 4th and 5th grades. At present, the enrollment represents about one-third of eligible children in the village.
As we look forward to the day when all children will attend school, we are filled with the hope and enthusiasm of Keenan's Spirit – knowing that she would have made a difference for these children.
Her journey continues.