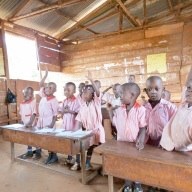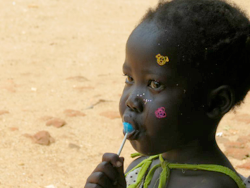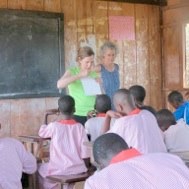 Keenan's Kids goes to Africa

Part of the original mission of Keenan's Kids was to help Keenan finish the journey she had started in Nepal and was to culminate in Africa. In the Spring of this year, Keenan's mother, Maureen, made it happen.
Along with three other women, Maureen traveled to Uganda to help in an effort to improve young girls' hygiene in remote parts of the jungle. In these areas, school girls of menstrual age have no access to sanitary napkins or other products to control their menstrual flow. As a consequence, they are not allowed to attend school during this time. As this happens month after month, the girls get left behind in their studies, are unable to catch up, and ultimately drop out of school.
Maureen, with her former business partner, Ellie VonWellsheim, helped teach the women in these communities how to fabricate reusable menstrual pads made from bamboo. This is truly a life changing event for these communities. In their short time there, other villages learned of their efforts and village leaders came to ask if the group would be willing to come and teach their women. Needless to say, this was a very good sign.
Looking forward, Keenan's Kids will also be providing food and nutrition to the children of a small rural village –  Kagoma Gate, Uganda. We think that this new initiative would have made Keenan very happy.
We love you Sweetheart!!!