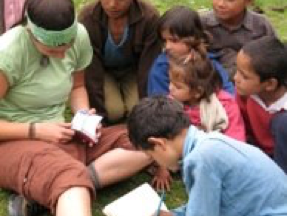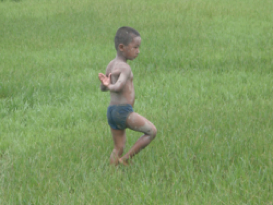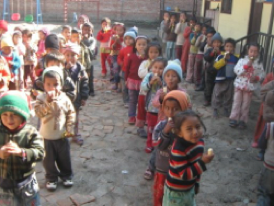 Keenan's Kids first started operations in 2008, in Kathmandu, Nepal. This is where Keenan was living and working during the summer of 2008, before we lost her. She lived with a lovely Tibetan family in Bouhda, Nepal. Her Tibetan mother (called Momula) was Tsering Chokey Sherpa. She also had a Tibetan father (called Pala), a Tibetan grandfather (called Popula) and Tsering's two children who she considered a brother and sister. Keenan loved her Tibetan family, and they gave her much strength, support and love as she pursued her dreams.
Her dreams included studying and working with eastern medicine, which she did at a local Tibetan clinic. She also helped at a local leprosy facility. Throughout all her time there, she was most drawn to the plight of children. It was always the children that captured her heart.
Orchid Garden Nepal (OGN) was a children's daycare center in nearby Kathmandu. Keenan was introduced to the Director of OGN (Bina), by Vidhea Shrestha, the Program Leader of Keenan's Tour in Nepal. The children at OGN are from the lowest caste in Nepal. They are very poor, and often, receive their only meal of the day at OGN. The children range in age between 2 – 5 years old. Newborns and children under two years of age are kept with their mothers while working. The work is very hard and many mothers even mix cement with their youngest strapped to their backs. There, Keenan got to know many of the children, and spending time with them brought her much happiness, along with a raw awareness of the struggle for life.
Upon losing Keenan, we felt that the world had lost a beautiful soul that would have contributed much to the world. As a positive counterbalance, we established Keenan's Kids, a charity devoted to providing food and nutrition to indigent children throughout the world. We know in our hearts, that this will make Keenan smile.
And so, we have started where Keenan left off — Orchid Garden Nepal, in Kathmandu.
Tarpon came to Orchid Garden Nepal at the age of 10. By then, he had already experienced a challenging life. He was born in Pachnthar, in the eastern part of Nepal. The youngest of two children, his father died before he had a chance to know him. His mother, Tara, unable to provide for her children, left them with her parents and traveled to Kathmandu to make a life. There, she remarried and had a son. Throughout Tarpon's childhood, his mother would return to Pachnthar once a year to visit him and his older brother.
read more